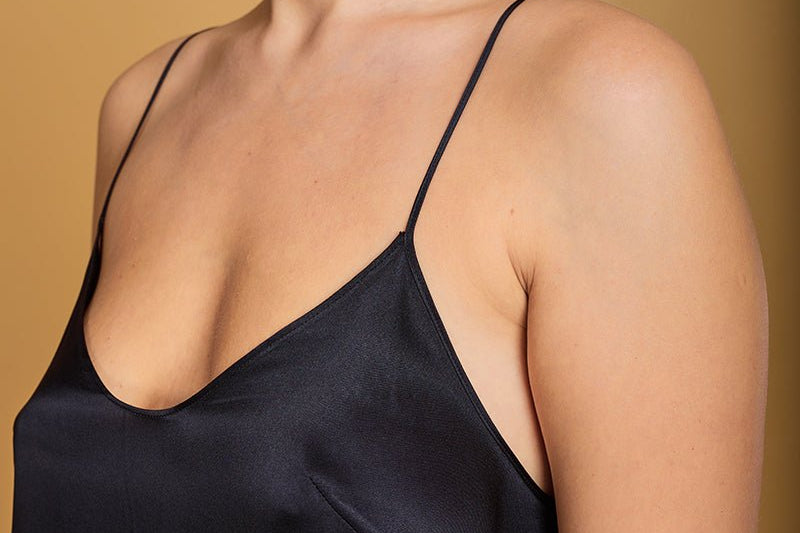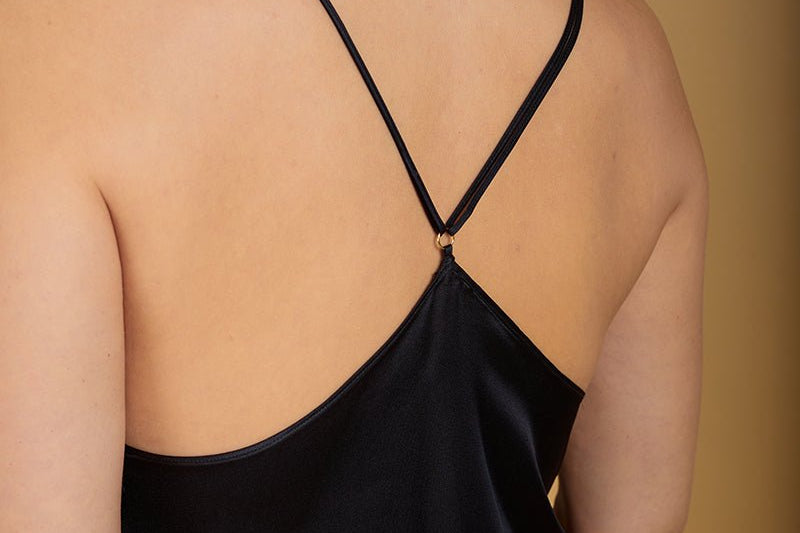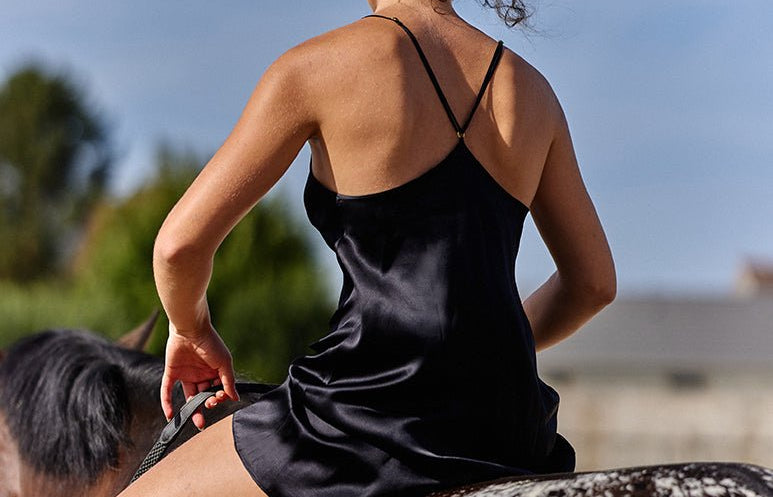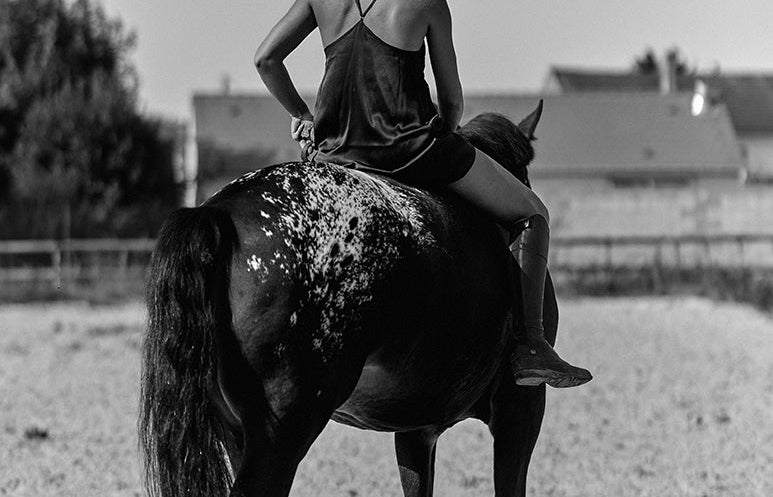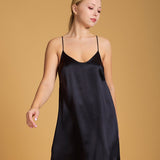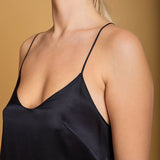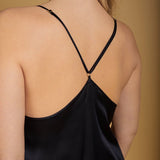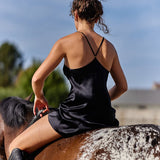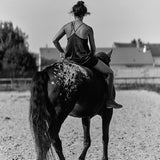 Satin Silk Short Slip Dress in Black
Elevate your evening allure with the Amandine Silk Slip Dress, a masterpiece of sophistication crafted from 100% Italian satin silk in an enchanting black hue. This is a garment that captures the essence of timeless beauty, down to the finest detail.

KEY FEATURES :
Italian Silk Luxury : Crafted from the finest Italian silk, the Amandine slip dress envelopes you in a luxurious embrace, offering a sensuous feel against your skin.

French Seams & Pin Hems : Every inch of this dress is a testament to impeccable craftsmanship, featuring French seams and pin hems for a finish that's nothing short of perfection.

Bespoke Straps : The décolleté and armholes are delicately adorned with bias-cut ribbons that gracefully transform into fully adjustable straps, thanks to the metallic golden sliders. This attention to detail ensures a perfect, customized fit for your unique comfort.

Elegant Back Design : The straps converge at the back, fastened by a golden hook nestled gracefully between the shoulder blades, where the back of the nightdress descends into a striking point, creating a captivating focal point.
When you wear the Amandine Slip Dress, you're not just adorning yourself in clothing; you're donning an embodiment of elegance and allure. It's a statement of sophistication, perfectly suited for a special evening or any moment when you want to feel extraordinary.
Experience the beauty of Amandine – a dress that epitomizes elegance and luxury. Make it yours today.
DELIVERY STARTING FROM THE 4TH OF DECEMBER
For the Origins Collection delivery starts from the 4th of December.
Highly skilled artisans make every Ariane Delarue piece entirely by hand in Europe.
If an item is unavailable, do not hesitate to contact us: contact@arianedelarue.com
---
Discovering the ideal fit for your Ariane Delarue lingerie is a personalized journey, and our SIZING CHART is here to guide you every step of the way.
Satin Silk Short Slip Dress in Black
Behind the brand
Sensual consciousness guides our approach, offering custom creations to reduce environmental impact.
At our brand, elegance goes hand in hand with responsibility, and each piece embodies the perfect harmony between sensuality and respect for our planet.