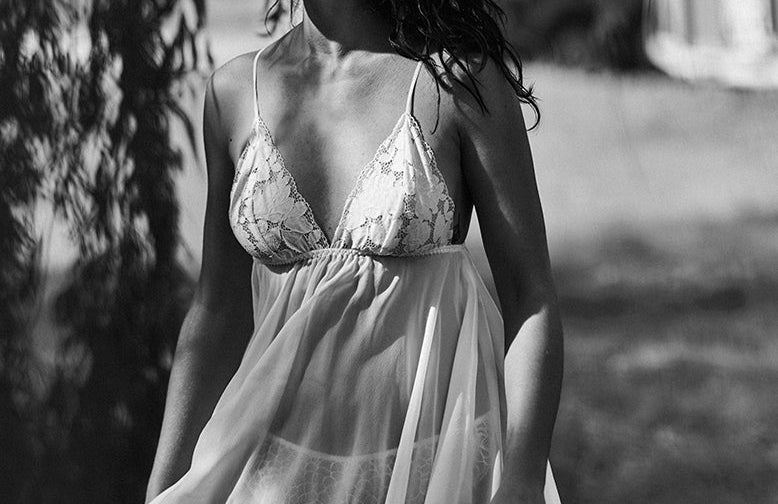 Sheer Off White Romantic Silk Babydoll
Elevate your evenings with the Laura Babydoll, a fusion of elegance and comfort. Crafted from off-white Italian silk georgette and adorned with a stretch Modal lace featuring a graphic floral design, this nightdress is the epitome of romance.
KEY FEATURES :

Unpadded Comfort : The cups of this babydoll consist of two unpadded triangles, offering exceptional comfort. The softness of the lace, combined with its stretch quality, makes it a dream to wear.

Elasticated Underbust : The underbust is thoughtfully elasticated, secured with a plush elastic band, ensuring a snug yet comfortable fit.

Full Circle Design : The main shape of the babydoll is cut in a full circle, creating a floaty and comfortable nightdress that allows you to twirl gracefully, just like Marilyn Monroe, thanks to the sun-cut of the skirt part.

Adjustable Straps : The straps are fully adjustable, thanks to the golden metallic hook and sliders, ensuring a customized fit tailored to your unique comfort.

Haute Couture Finishings : The Laura Babydoll boasts haute couture-like finishings, including French seams and pin hems, demonstrating meticulous craftsmanship.
The soft and delicate off-white color of the Laura Babydoll exudes a feeling of pure romance, making it a perfect option for brides or honeymooners looking for an enchanting nightwear choice.
DELIVERY STARTING FROM THE 4TH OF DECEMBER
For the Origins Collection delivery starts from the 4th of December.
Highly skilled artisans make every Ariane Delarue piece entirely by hand in Europe.
If an item is unavailable, do not hesitate to contact us: contact@arianedelarue.com
---
Discovering the ideal fit for your Ariane Delarue lingerie is a personalized journey, and our SIZING CHART is here to guide you every step of the way.
Sheer Off White Romantic Silk Babydoll
Behind the brand
Sensual consciousness guides our approach, offering custom creations to reduce environmental impact.
At our brand, elegance goes hand in hand with responsibility, and each piece embodies the perfect harmony between sensuality and respect for our planet.