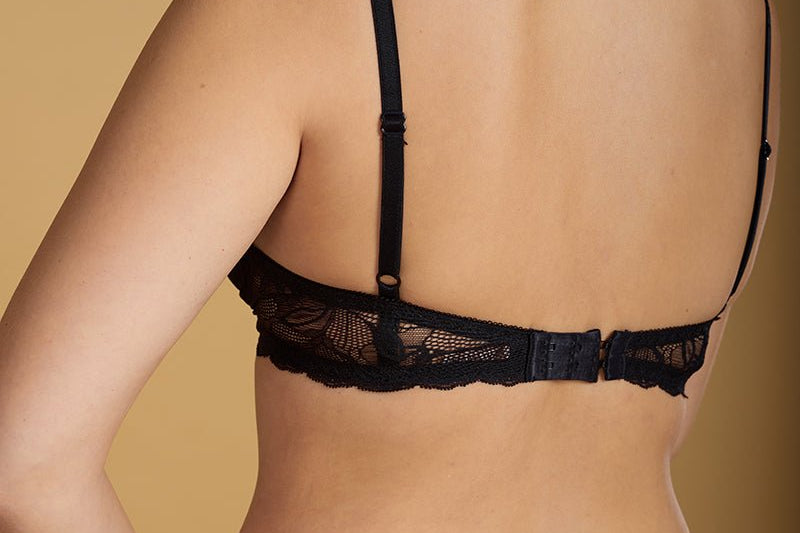 Tanga in Eco-Friendly Black Floral Stretch Lace
Elevate your lingerie ensemble with the Sophie Tanga, a piece meticulously designed for both style and comfort. Created from black floral stretch lace, this tanga is the perfect match to the Sophie Bralette.
KEY FEATURES:
Eco-Friendly Lace : The tanga is meticulously crafted from German eco-friendly black floral stretch lace, including recycled elastane fibre. This not only adds a sustainable touch but also offers flexibility for an impeccable fit.

Bamboo Gusset Lining : To prioritize comfort and breathability, the tanga is lined with a bamboo gusset, ensuring you feel at ease throughout the day.

Scalloped Edge : The delicate scalloped edge adds a touch of elegance to the design while providing a figure-flattering silhouette.
The Sophie Tanga is more than just lingerie; it's a statement of both style and comfort. Its meticulous design ensures a flawless fit prioritizing your comfort and elegance.
DELIVERY STARTING FROM THE 4TH OF DECEMBER
For the Origins Collection delivery starts from the 4th of December.
Highly skilled artisans make every Ariane Delarue piece entirely by hand in Europe.
If an item is unavailable, do not hesitate to contact us: contact@arianedelarue.com
---
Discovering the ideal fit for your Ariane Delarue lingerie is a personalized journey, and our SIZING CHART is here to guide you every step of the way.
Tanga in Eco-Friendly Black Floral Stretch Lace
Behind the brand
Sensual consciousness guides our approach, offering custom creations to reduce environmental impact.
At our brand, elegance goes hand in hand with responsibility, and each piece embodies the perfect harmony between sensuality and respect for our planet.