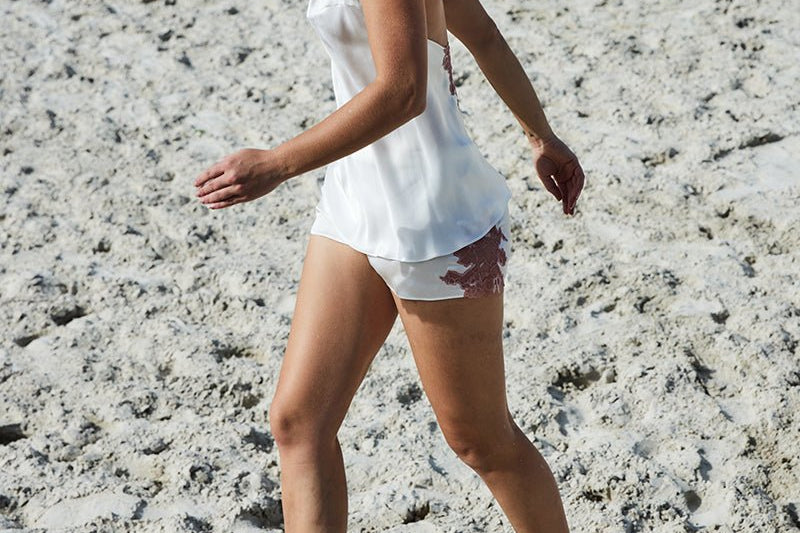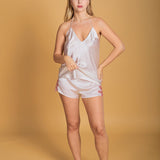 White Satin Silk Camisole with Old Rose Lace Detail
Introducing the Camille Satin Silk Camisole: Elegance in Every Detail
Elevate your lingerie collection with the Camille Satin Silk Camisole, a piece that beautifully combines elegance and comfort. Crafted with meticulous attention to detail, this camisole boasts a rare and precious feature—delicate old rose-colored French OEKO-Tex lace, inlaid at the deep V open-back.
KEY FEATURES :

Exquisite Lace Detail : The deep V open-back is adorned with delicate old rose-colored French OEKO-Tex lace, adding a touch of pure luxury and a delicate pop of color to the camisole.

Fully Adjustable Straps : The camisole features ultra-thin spaghetti straps, fully adjustable to ensure the perfect fit. The straps fasten at the neck with satin spaghetti loops for an elegant and customizable touch.

Plunging Neckline, Relaxed Fit : With its delicate material and impeccable fit, this elegant camisole frames the bust with a plunging neckline while maintaining a relaxed fit through the body, ensuring both comfort and style.
The Camille Satin Silk Camisole embodies the perfect blend of elegance, sophistication, and comfort. This is more than lingerie; it's a statement of timeless beauty and craftsmanship.
DELIVERY STARTING FROM THE 4TH OF DECEMBER

For the Origins Collection delivery starts from the 4th of December.
Highly skilled artisans make every Ariane Delarue piece entirely by hand in Europe.
If an item is unavailable, do not hesitate to contact us: contact@arianedelarue.com
---
Discovering the ideal fit for your Ariane Delarue lingerie is a personalized journey, and our SIZING CHART is here to guide you every step of the way.
White Satin Silk Camisole with Old Rose Lace Detail
Behind the brand
Sensual consciousness guides our approach, offering custom creations to reduce environmental impact.
At our brand, elegance goes hand in hand with responsibility, and each piece embodies the perfect harmony between sensuality and respect for our planet.