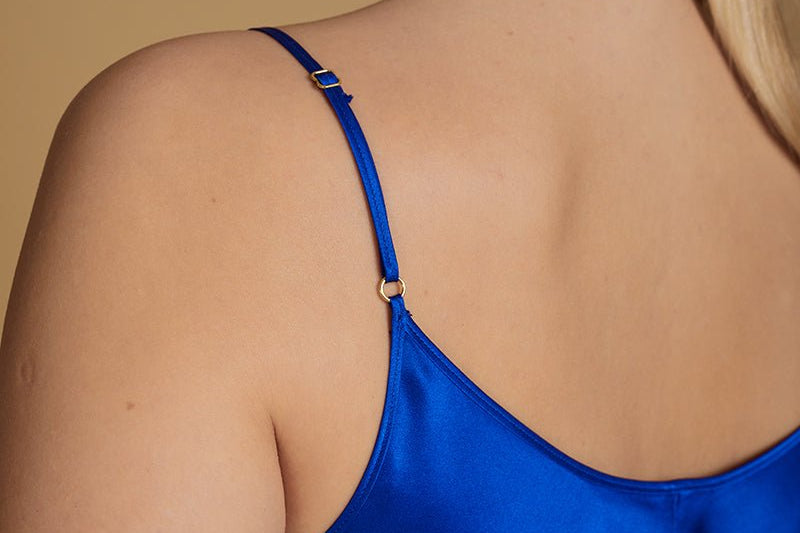 Classic Bias Cut Satin Silk Camisole, in Electric Blue
Introducing the Christine Satin Silk Bias Cut Camisole: A Timeless Classic for Your Evening Elegance
Elevate your nighttime allure with our Christine top, a masterpiece of enduring beauty and comfort. This classic bias cut top is meticulously crafted from the most exquisite Italian satin silk, ensuring you feel nothing but luxury against your skin.
KEY FEATURES :

Pure Elegance : The Christine top is designed for those who appreciate timeless classics. The neckline is adorned with a delicate bias band that gracefully extends into creating the adjustable straps.

Customized Comfort : Thanks to the golden hooks and sliders, the straps are fully adjustable, guaranteeing a perfect fit tailored to your unique comfort.

Electric Blue Elegance : The vibrant electric blue hue of this top is enough to make it a statement piece. Sometimes, less is more. There's no lace embellishment, allowing the color and fit to take center stage.

Confident and Elegant : With the perfect fit and comfort, the Christine top exudes confidence and beauty. The powerful color energizes your look, all while maintaining an air of elegance.
When you wear the Christine Camisole, you're stepping into an expression of simplicity, comfort, and timeless beauty. It's a versatile piece that effortlessly transitions from everyday elegance to special occasions.
Discover the beauty of less-is-more with Christine. Feel confident, comfortable, and beautiful in every moment with the allure of electric blue.
DELIVERY STARTING FROM THE 4TH OF DECEMBER
For the Origins Collection delivery starts from the 4th of December.
Highly skilled artisans make every Ariane Delarue piece entirely by hand in Europe.
If an item is unavailable, do not hesitate to contact us: contact@arianedelarue.com
---
Discovering the ideal fit for your Ariane Delarue lingerie is a personalized journey, and our SIZING CHART is here to guide you every step of the way.
Classic Bias Cut Satin Silk Camisole, in Electric Blue
Behind the brand
Sensual consciousness guides our approach, offering custom creations to reduce environmental impact.
At our brand, elegance goes hand in hand with responsibility, and each piece embodies the perfect harmony between sensuality and respect for our planet.